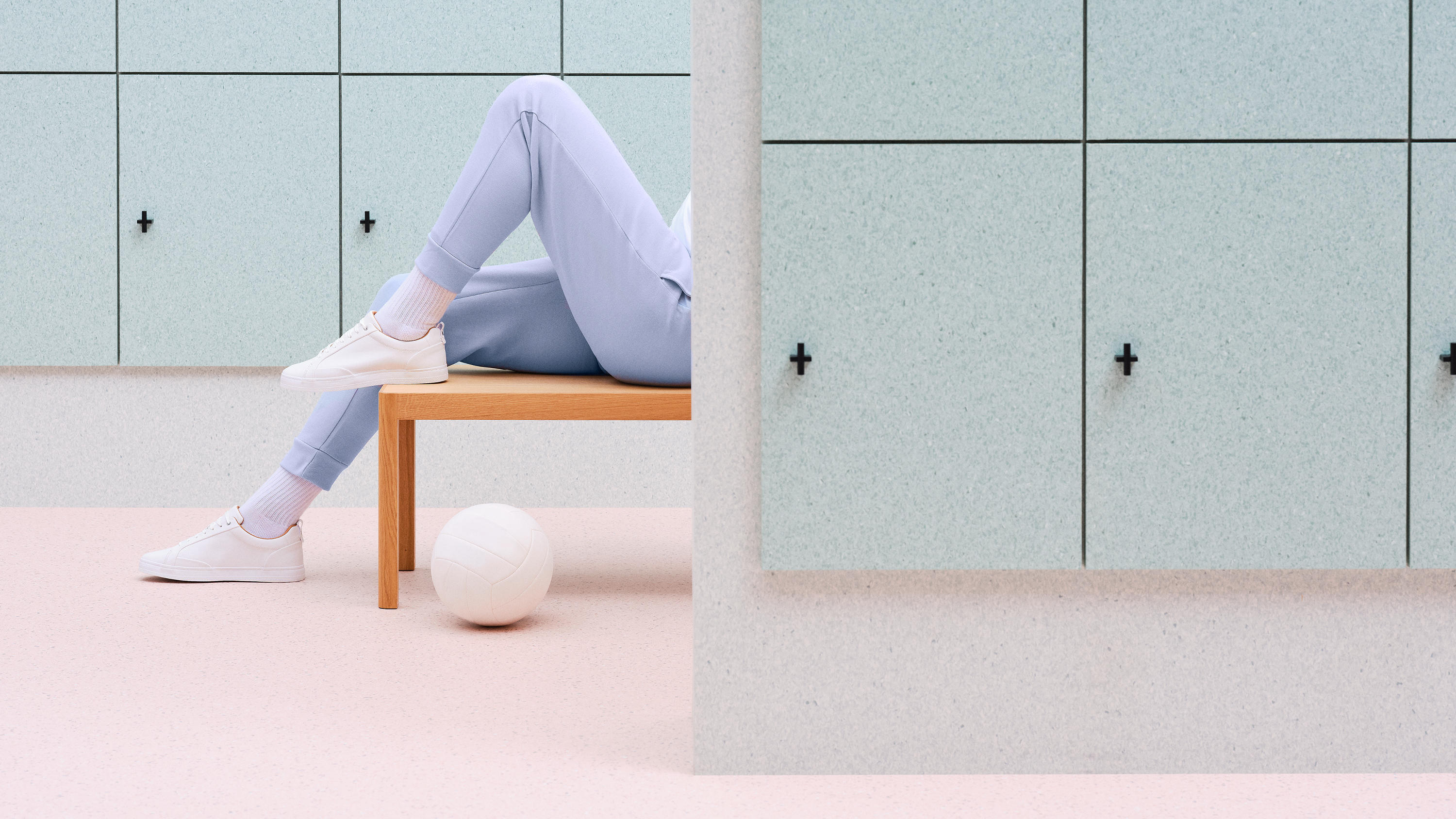 iQ Granit & iQ Eminent, Making History
To make history, we need to do something pretty special with a human-centric approach. An impact that can still be felt years, even decades, after the event. In the design landscape few materials have had such a lasting impact as our homogeneous vinyl, a material as relevant today as it's ever been. iQ Granit & iQ Eminent embody our commitment to stand with present and future generations. To create surfaces that are good for people and for the planet. And to do it every day.
Created 50 years ago, this versatile, humble material is all around us, working peerlessly in schools, workplaces, hospitals, hotels, factories and airports. Homogeneous vinyl is one of the materials that can truly be said to embody function and aesthetics in one seamless package. The same unbeatable performance, the unique multifunctionality, the new design & colours and leading sustainability credentials. We make history by remaking history.
50 years
Ground-breaking ranges that draw on Tarkett's 50 years of experience.
76 references
Designed for creative freedom with different patterns and colours, the collections are divided into 4 colour families, easy to combine and beautiful on their own.
Circular innovation
Closing the loop on waste, reducing our impact on climate change.
Best in class performance
Homogeneous vinyl is the iconic, durable, go-to material for architects and designers wanting a performance product that exceeds expectation.
iQ products are made from the very best materials, to contribute to healthy environments. Its compact composition has a strength and longevity capable of withstanding the toughest conditions – one of the reasons it's often found in highwear situations like hospitals, schools and other social spaces.
The nature of the material allows for perfect installation and reparation, using a unique dry-buffing maintenance and restoration system. Its sealed surface and unique treatment gives best-in-class protection for decades against marks and stains.
Reliable installation
The great flexibility of the material ensures perfect covings and hot weldings for a tight installation from floor to wall.
Hygienic solution
The smooth surface of the product and its unique surface treatment offer excellent cleanability and IPC (infection prevention & control).
Durable option
Lasting for 30 years and more. Easy to maintain, easy to repair.
Made for the most demanding spaces.
Sound

reduction to limit noise and ensure better

living

conditions.

Slip

resistance for both barefoot and shod, specifically in wet areas

.

Reducing

static

discharge

, as electrostatic and electrical discharges, for equipment good functioning, hence safety
iQ Granit Acoustic, Granit Safe T, Granit Multisafe (antislip solutions) and Granit SD and Toro SC (static conductive and dissipative) have all been developed to meet the most demanding technical requirements, while keeping aesthetics in mind.
They come in 14 core colours (8 for multisafe products) that are fully combinable with the iQ Granit & iQ Eminent references.
For faster and easier floor planning, and contributing to the well-being of all users.
15dB sound reduction
Where noise needs to be controlled
Anti-slip
Durable options
Conductive and dissipative
Solutions
iQ Granit and iQ Eminent collections contribute to a new way of creating spaces that care for human needs.
iQ Granit and iQ Eminent offer 4 patterns and a complete new colour story. A recipe to fit all rooms while creating new harmonies and ensuring inclusive design, even patterns for environments used by persons living with dementia.
iQ Granit showcases a new design. While preserving the unique iQ Granit character, it now features a contemporary and modern touch, with a craftsmanship design and soft warm living texture. Classical have been lightened to provide a fresh and modern harmony that sit perfectly with iQ Eminent
With its beautiful honed and polished natural stone design, iQ Eminent provides a new tonal palette with a sophisticated and rich touch. Both muted and bold, this collection supports biophilic design and allows for spaces to be created with well-being in mind.
The collections are divided into 4 colour families which are easy to combine but also beautiful on their own; Oxide , Argil, Lichen and Basalt.
Sustainaibility credentials
At Tarkett, we're committed to a sustainable, circular economy that creates value for everyone, closing the loop on waste, preserving natural resources and reducing our impact on climate change. From our base in Ronneby, Sweden, we are infusing these collections with all the sustainable innovation at our disposal to extend the life of each product, remaking history for the present and the futures to come. Homogeneous vinyl as a concept was born here 50 years ago, with the idea to give people the best materials to improve life while being respectful to our world and its resources. Today, we remake it into something even better for people and the planet.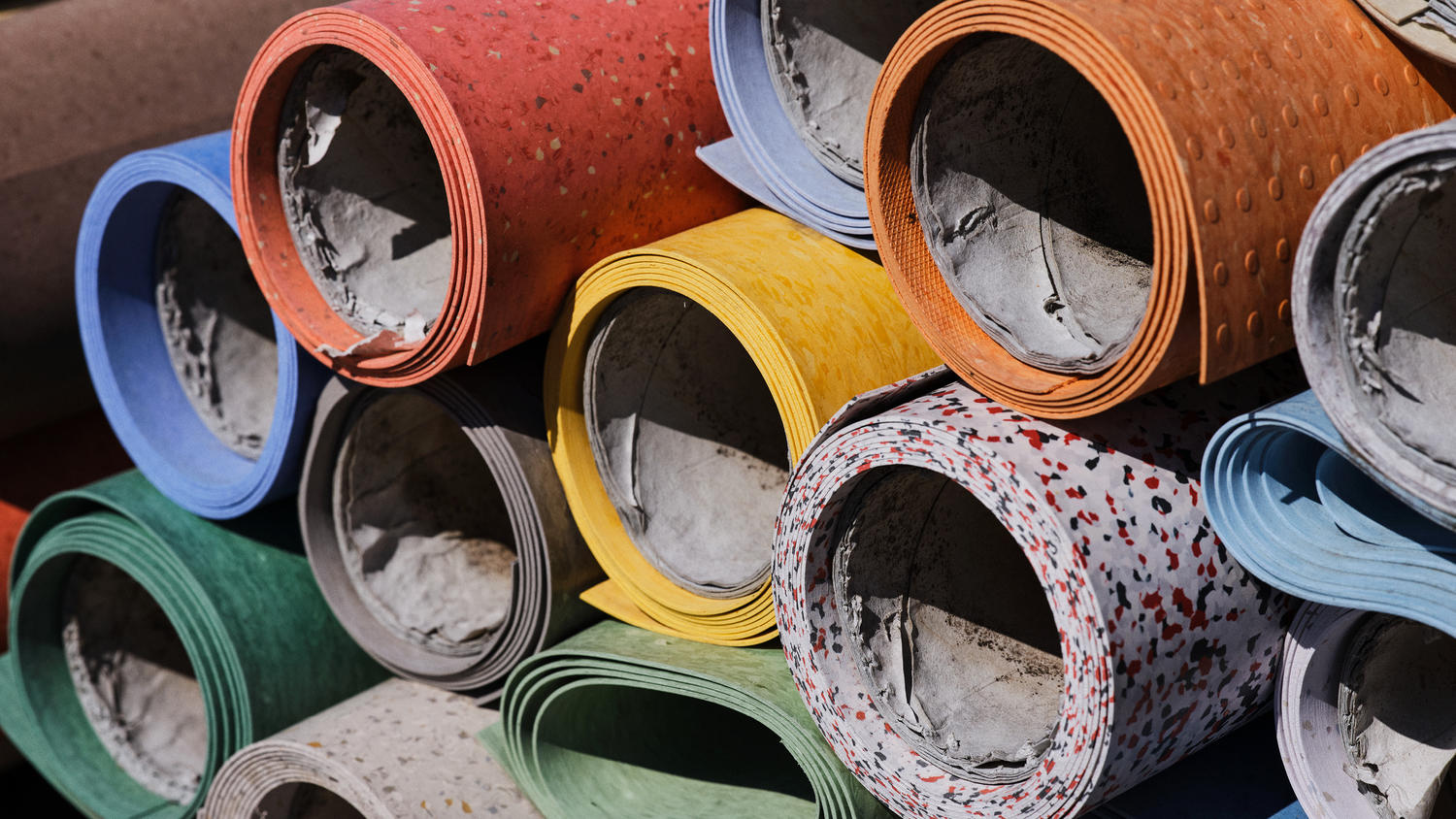 iQ Granit and iQ Eminent are created with the health and sustainability standards of the Cradle to Cradle® principles. This means investing in materials with green credentials that actively contribute to healthier environments (Phthalate free plasticisers, no biocides and extremely low VOCs). Their impact on health have been independently assessed by an external laboratory (EPEA) and the results are available in MHSs (Material Health Statements).

Moreover, their physical construction and their maintenance enable a lengthened lifespan. This is key are key factors in moving towards for a sustainable future.

iQ Granit and iQ Eminent are produced in our Swedish Ronneby plant where 100% of the energy consumption comes from renewable energies. The production works with 99,5% in close loop for water and generates 0% waste to landfill.

Recycling is one of the cornerstones of our commitment to reducing our impact on a resource level. We're using a complete recycling scheme where production, installation and post-use floorings are taken back into production to make new floors.
Circular innovation
The renewed iQ Granit and iQ Eminent collections are forged in the principles of the circular economy. You can achieve higher levels of sustainability and green building labels like LEED, WELL and BREEAM by using iQ Granit and iQ Eminent.
Our innovation teams developed a unique solution to recycle phthalate free post consumer homogeneous vinyl flooring at our plant in Ronneby, Sweden via our Re-Start programme.
iQ Granit and iQ Eminent are ReStart ready!

Recycling 1 m² of iQ homogeneous vinyl (iQ Granit) saves close to 4 kg CO2eq/m2 compared to sending waste to landfill, which is equivalent to a passenger flying two round trips from Paris to New York.
Reduce your carbon footprint even further
On demand, we can produce iQ Granit and iQ Eminent with bio-attributed vinyl - Biovyn™- replacing fossil-sourced raw material with renewable biomass, that comes from wood residue, supplied from sustainable forests from Finland, not competing with food production, through mass balance principles. Mass balance is a calculation method that guarantees that the amount of bio-based output from the process is equal to the bio-based input. And this is certified by an external party, the RSB (the Roundtable on Sustainable Biomaterials), to ensure total tracking & transparency.
The products keep the same technical and maintenance high quality properties as the standard version and can be taken back after use and recycled into new products. iQ Granit and iQ Eminent with bio-attributed vinyl offer an increased greenhouse gas emission reduction versus the standard ranges.