Create an account and benefit from:
Easy sample ordering

Access to order history

Simplified contact with Tarkett
Create Account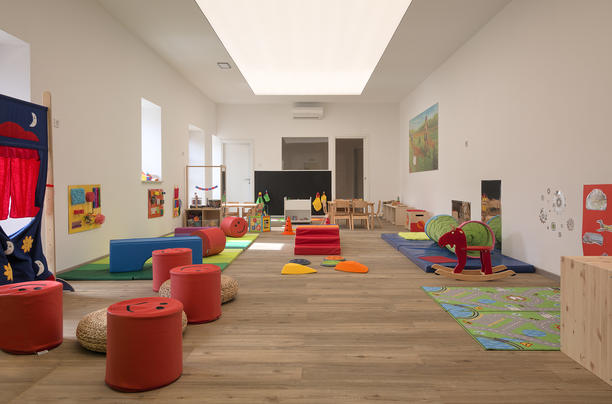 "ŠARENA LOPTICA" KINDERGARDEN
Education
Schools are the most challenging areas in terms of choosing flooring.
Schools are the most challenging areas in terms of choosing flooring. Here there are different needs that are often contradictory, such as safety, cost effectiveness, durability and stains and shock resistance, on one side, and a challenge to create a stimulating, quiet learning environment, on the other. Tarkett has rose to the challenge and offered the ideal solution in the form of Standard Plus 1.5 mm, iQ Optima, iD Essential 30 floors.
'Standard Plus' is a range of homogenous floor coverings which offers multifunctionality and great value for money. 'Standard Plus' has been categorised as class P in terms of wear resistance and is particularly recommended for use in healthcare and educational institutions. 'Standard Plus' provides a balanced combination of aesthetics and functionality, which is ideal for such areas.
From hospitals, schools, hotels and offices to bedrooms, 'iQ Optima' offers a unique solution and a completely balanced design with its outstanding performances and excellent range of colours, formats and accessories. The revitalised 'iQ Optima' product range raises the homogeneous vinyl to a higher level in terms of design possibilities, with a colour palette that has more than doubled, going from 30 to 64 colours.
Tarkett's new 'iD Essential 30' is compact heterogeneous vinyl flooring in the form of boards and panels and it belongs to the luxury vinyl tiles category. 'iD Essential 30' is characterised by durable and resistant flooring for residential and semicommercial use, authentic images inspired by natural materials, warm and quiet floors, as well as surfaces reinforced with 'TopClean' polyurethane for easy cleaning.