Create an account and benefit from:
Easy sample ordering

Access to order history

Simplified contact with Tarkett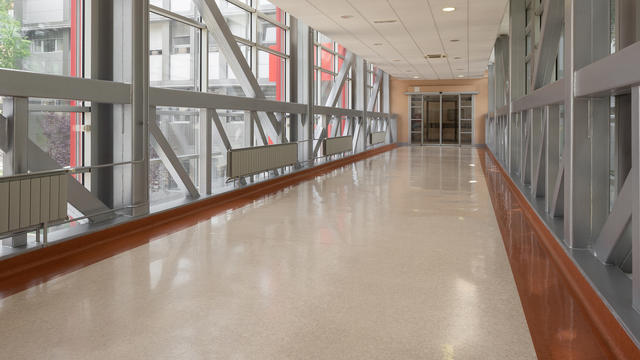 Clinical centre of Vojvodina, KCV
2009 | Novi Sad, Serbia
The Clinical Centre of Vojvodina (KCV) is an efficient and effective, highly specialized, medical, scientific research and educational institution, dedicated to the provision of high-quality tertiary level medical services, by applying the most advanced diagnostic and therapeutic procedures and methods of treatment. 
Tarkett has been selected to participate in this significant project through the selection of vinyl flooring and wall coverings (iQ Optima, iQ Megalit, iQ Toro SC, Wallgard, Tapiflex Stairs collections). About 8,500 square meters of Tarkett wall and floor coverings have been installed. 
The entire project of the Emergency Department within the Clinical Centre of Vojvodina is the original creation of the architects, the married couple: Bojana and Dejan Ilijć from the Arhimonn, from Novi Sad. 
And this is what they say why they have opted for Tarkett vinyl flooring: 
"When designing in healthcare institutions and specifically, for instance, in the Emergency Department within the Clinical Centre of Vojvodina (CCV), there were special requirements for the application of the final flooring having predefined wear resistance coefficients and being resistant to chemical cleaning agents and disinfectants. In the first place, the flooring was supposed to meet hygienic and antibacterial requirements in order to be taken into account from architectural and construction as well as aesthetic point of view.
The advantage of vinyl flooring over ceramic and stone flooring is due to the fact that it is installed as monolithic, without joints, in which dust would deposit or bacteria would develop. The result is the flooring surface with the utmost antibacterial performance. 
Thanks to its chemical composition and consistency, vinyl is an artificial and fully sterile material and therefore totally insusceptible to receiving or developing any types of bacteria, fungi, mold or microbiological pathogens of any kind. 
Besides the fulfilment of primary hygienic and sanitary requirements concerning use and maintenance, vinyl flooring possess low rigidity in relation to monolithically cast, so-called "industrial" epoxy or polyurethane flooring and does not have such hardness. They offer far greater walking comfort, better tactile adaptation to feet and more pleasant underfoot comfort.
The resilience and hardness of the flooring are always important when there is a possibility of accidental dropping and breaking of glass or metal objects. It is much harder to break a glass, a bottle, a test-tube... on elastic vinyl flooring than on other types of flooring. On the other hand, metal objects do not leave scratches and cracks on the vinyl flooring following accidental drops. Considerable forces and heavy loads are necessary in order to be able to cause deformations of the vinyl flooring.
Wear and tear as a consequence of frequent or long-lasting use do not leave noticeable walking paths, nor have consequences for the homogeneous structure or colour of the vinyl flooring, thus all the flooring surfaces can be smoothed by slight polishing.
Durability and resistance to the sunlight and ultraviolet radiation effects are especially important since there are no rooms in which the lighting is ideally distributed and completely diffused.
In terms of thermal properties, vinyl flooring belongs to the category of semi-warm floor coverings and any contact with bare feet or arms does not give you an unpleasant, cold feeling (as is the case with stone or ceramic tiles), but it emits the heat of the room and its air.
When resistance to sound vibrations is concerned, vinyl coverings reflect considerably less noise, do not vibrate, do not resonate and are almost sound-proof. This feature is crucial for achieving peace and tranquillity for the patients in hospitals and other healthcare institutions.
Aesthetics and colour palette are very important not only due to the psychological impression of the facility, but they can also be used for the purpose of a quick visual identification of the space, parts of the space (wards), or individual premises. Tarkett vinyl flooring is produced with a pronounced aesthetic property of texture, colour values and hues, which are most often in the pastel colour scheme, pleasant for the eye and very remarkable.
Finally, when all the characteristics and performances of vinyl flooring (and wall coverings) are considered, it can be absolutely reasonably argued that vinyl flooring, in relation to all other types of materials, is unequivocally the best and the most recommendable for wider application in healthcare facilities of all kinds."
Dejan ILIJC, BSc in Architectural Engineering
Arhimonn
About
Not very often we have the opportunity to see how the floor looks like after a many years. The photos of the Emergency depart.(KCV) have been taken after more than 10 years of the floor installation.
Designer/ Architect
Arhimonn, Novi Sad
Tarkett partner
Dijagonala
Building owner
FOND ZA KAPITALNA ULAGANJA AP VOJVODINA