Create an account and benefit from:
Easy sample ordering

Access to order history

Simplified contact with Tarkett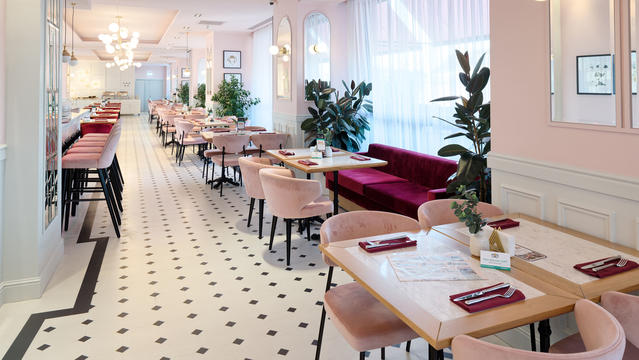 Cismigiu Bistro Restaurant
2018 |
Bucharest, Romania
Collections used
Hospitality, Travel & Leisure
Picktwo Studio
Designer/ Architect
A sophisticated restaurant is not complete without an attractive floor, and this is what Cismigiu Bistro restaurant in Bucharest shows. Black and white vinyl flooring fit in perfectly with the elegant interior.
Everything can start with an idea of creating a unique environment and personalised design – of making floors which create a certain atmosphere. 
The architects wanted to create a distinct flooring installation which would complement the interior, and Tarkett's experienced flooring design team were given the assignment to apply their Floorcraft skills and help create a unique flooring solution. When the floor pattern was completed and verified, it underwent computer processing in order to determine the precise cutting patterns.
Thanks to the Floorcraft Design Service, the goal was reached – the installation of white vinyl flooring with a combination of vinyl elements in black. The attention to detail paid off, the floor looks fantastic! A timeless design which looks fresh and contemporary.
The Floorcraft Design Service helps designers and architects to make maximum use of this creative opportunity. It offers an almost limitless number of sensational effects and appealing solutions which will engage your imagination and reflect it faithfully.
Read more about the Floorcraft Design Service.
The Acczent Excellence 80 collection has proved to be an excellent choice for creating original flooring solutions.  It is available in more than 100 designs, with a matt finish, and it is suitable for covering stairs and walls.  This heterogeneous vinyl collection is ideal if you want to reduce cleaning costs by 25% and if you appreciate life in a healthy environment because Acczent Excellence is 100% phthalate-free.