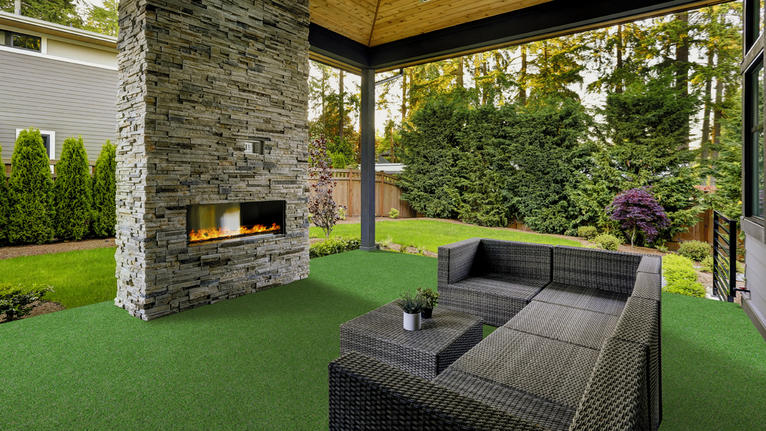 What you need to know before you opt for artificial grass
A beautiful green lawn in the yard is the pride of every homeowner. Many people are passionate lawn enthusiasts and they do not spare time or effort to make their lawn perfect. However, not everyone has the appropriate conditions for growing and maintaining a perfect lawn.
Beautiful, highly durable, very practical and easy to maintain, artificial grass is nowadays used both indoors and outdoors. With the development of production technology and materials used, artificial grass now faithfully imitates the natural grass-like appearance by combining different thicknesses and colours of fibres. Artificial grass can be a great solution for a yard, terrace or balcony.
In this text we will show you:
Why opt for artificial grass

Is it easy to install and how much time does it take
How to install artificial grass on a balcony or terrace
How to install artificial grass in a yard
How is artificial grass maintained
Why should one opt for artificial grass?
Beautiful, tidy and safe green area.
The long durability of artificial grass will make its green colour remain vivid for an extended period of time. Artificial grass is durable, does not fade in the sun, is resistant to wear, and not slippery. High-quality and dense artificial grass will provide you with a pleasant atmosphere at home, in a yard, as well as in a cafe or a restaurant's garden.
It does not absorb moisture and is weather-proof(rain, snow). This is one of the great benefits of artificial grass, therefore it is recommended for cafe gardens and outdoor restaurants.
No additional maintenance costs. Artificial grass is easy to maintain, does not require mowing or watering. For that reason, it is very suitable for playgrounds, sports courts as it reduces electricity bills and spares valuable water and time.
Convenient for maintenance and refreshing for decoration!
In addition to being suitable for playing fields, playgrounds and pool areas, artificial grass is a nice solution for terraces and balconies! Combined with natural pot plants and garden furniture, you can easily create your own green oasis for enjoyment.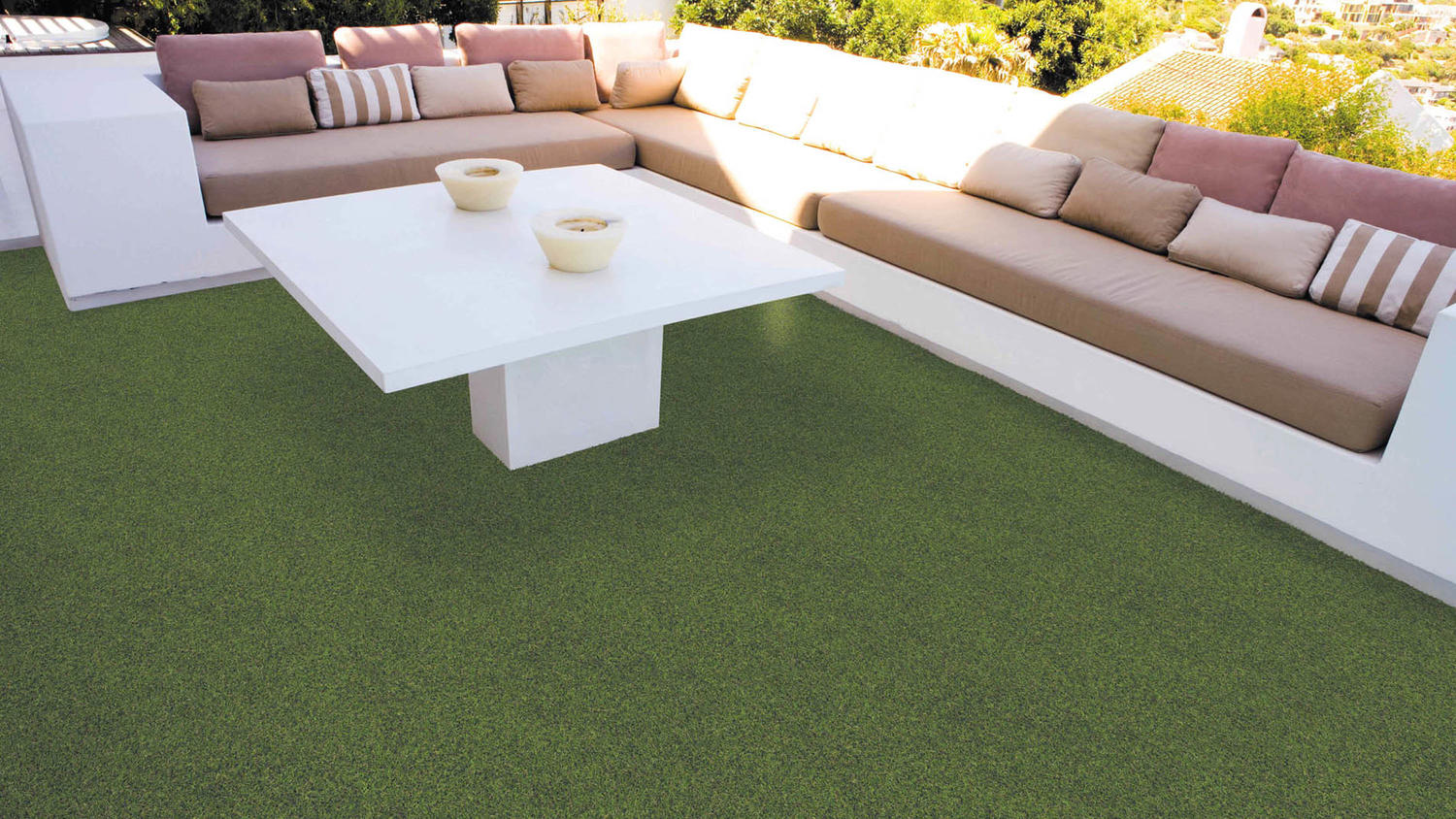 Turn your terrace or balcony into a place of enjoyment
Do you want to create a spring atmosphere on your terrace or balcony?
Add artificial grass as a new detail to your balcony and enjoy the beauty of spring and summer days in a refreshing atmosphere.
Artificial grass will complement the elegant look of any balcony, and even turn a small balcony into your favourite place for a pleasant conversation while having coffee or tea.
Artificial grass in restaurants and cafes
Artificial grass covering the cafe or restaurant terraces and gardens can help you create the right environment for enjoying beautiful sunny period.
A luxurious appearance
Opt for a luxurious appearance of your lawn provided by Giardino artificial grass. Due to its higher density, 30 mm pile height and excellent quality, Giardino artificial turf offers a touch of luxury, making it the perfect choice for yards, landscapes, pool areas, terraces and balconies.
It provides walking comfort and natural grass look, with guaranteed colour durability and easy maintenance. The backing with holes, designed for natural water drainage, is resistant to all unfavourable weather conditions.
A touch of nature for every space
Prado artificial grass makes an impression of grass in its original natural form.
With 17 mm pile height, Prado is a good choice for any exterior or interior area. It spares resources (water, electricity) and shortens yard maintenance time. Maintenance is easy, so it is also recommended as decoration for terraces or balconies.
Is it easy to install artificial grass?
The artificial grass is easy to install on the balcony because it is a small surface and the grass can be cut in one part.
Installing artificial turf in the yard is a little more complicated.
How long does it take to install it on a terrace or a balcony, and how long in a yard?
Balcony or terrace (hard surfaces: concrete, ceramics): The base must have a slight fall in order to prevent water retention under the grass in case of rain or similar weather conditions, as this residual water would eventually produce an unpleasant odour.
Installation of artificial turf over hard surfaces (concrete, ceramics ...) can be done in 1 day.
Yard: Existing grass, roots, branches and other obstacles must be removed. Dig up the earth from 7.5 to 20.5 cm deep, throw in rubble and firmly ram it in order to provide an absorbing and hard surface over which the grass will be laid. The preparation activities require heavy construction machinery for rubble ramming.
Installation of the artificial turf in this way takes 5-7 days.
How is artificial turf installed?
Whether you plan to place artificial turf on a natural surface, concrete or ceramics, our guide on how to install artificial turf will help you complete this process successfully and easily.
Installing artificial grass on the balcony or terrace
If you want to install artificial grass on a hard surface (concrete, ceramics), follow this simple artificial grass installation guide:
1. Estimate height and length
Before setting artificial grass on the floor, determine the width and length at which it will be set.
2. Clean the area
Before installing artificial grass on concrete or ceramics, clean the surface thoroughly to make sure that the surface is perfectly even and that all the impurities have been removed.
3. Set your artificial turf
Since it is available in rolls, all you have to do is to spread them on a given surface and position them in the right place. Keep in mind that the orientation of the grass should be in the same direction for each individual roll.
Allow your artificial turf to rest for about 24-48 hours, which will prevent any creasing. After letting it settle, cut the turf with a sharp knife. The rolls should be carefully measured, cut and placed one after another.
No levelling compound is required, the joints are glued together with double sided adhesive tape or special textile tapes are placed under the joints over which PU adhesive is applied to seal the joints.
If you are installing artificial turf on a wooden surface such as decking, you can easily fix your lawn by using glue or tape or by using nails.
Do you want to install artificial turf only temporarily?
Alternatively, for a decorative look, you can just lay down your artificial turf and make sure to secure the ends in order to prevent it from being raised by wind. You can solve this problem by putting garden furniture or flower pots on it.
Installing artificial turf in the yard
The use of artificial turf in backyards is more and more popular. If you want to have artificial grass in one part of your backyard, here's what you should do to get it right.
We recommend that you read the instructions for installing artificial turf, or you can hire a professional installer to ensure the perfect installation of your lawn.
First of all, gather the material you will need to install your artificial turf: an ace, a shovel, a wheel barrow, a hoe, a pickaxe, etc., a scalpel, a high quality tape, some outdoor glue.
Determine the height, width and length of the area onto which the artificial grass is to be laid so that the surface you want to work on is clear. It is installed exclusively on beaten rubble as described in the installation instructions below.
Follow these 10 steps to put artificial turf in the yard properly:
Remove the lawn
Before flatting the base, all vegetation, roots, fertilizers, large stones, etc. must be removed. Before starting the work, check that the sprinklers and electrical installations are functional. They must be positioned slightly below the surface of the planned artificial turf site. The surface is treated prior to setting the grass to prevent weeds from growing through the artificial grass.
Preparation of artificial turf base
Proper setting of the base is vital for the stability of artificial turf. Between 7.5 and 20.5 cm of rubble must evenly cover the whole area; typically, 1m3 of gravel is used for 30.52m2 of artificial turf (if between 7.5 cm and 10 cm of vegetation is displaced).
Flatten the base
Moisten the surface and use a roller or vibrating plates to straighten the base material until the
compactness of at least 90% is reached. When it gets dry, the surface must be firm and free of creases.
When the base has been laid
It is important that the top of the artificial turf is 1.25 cm above the hard surface. The planned area may also have inclinations, it does not have to be completely flat. We advise you to spray the base with a pesticide first. If necessary, place a decking or treated wood on the perimeter of the area planned for artificial turf, under the artificial turf, if the turf needs to be fixed at its ends (by nails).
5. Installing artificial turf
Proper stacking of rolls is crucial. Unroll the artificial turf so that each roll is facing the same direction.
If there are creases, it is necessary that the rolls are spread out on a flat surface and in the sun. We recommend that you spread the artificial turf on a surface and allow it to rest between 24h and 48h.
6. Cutting and fitting artificial turf
In order to properly fit in artificial grass, it must first be spread and left to acclimate, and the final fitting in is done precisely to the contact material (wood, concrete, behaton ...).
So, before fixing and gluing, artificial turf must be cut. Artificial turf can be very easy cut with a scalpel. It is possible to use scissors as well, but a scalpel is our recommendation.
Cut the artificial turf on the back so that the dimensions match the surface onto which it is going to be laid.
7. Fix the artificial turf ends
In order to assemble your turf joints, use high quality tape and outdoor glue, following the instructions on the products. Lay down the tape and apply the glue before pulling the edges of the turf and putting something heavy onto them. This can be achieved with pots, stones or other heavy materials.
Glue the two rolls of artificial turf together with an all-weather adhesive to make it look like a whole. Fix the
turf along the edges using 15x17cm soil nails. Before pounding them, allow the turf to rest for 48 hours due to possible shrinkage. Place the stakes at every 30 cm and leave 3 cm extra material at the ends than necessary.
After that, turn on the sprinklers and confirm that they and the electrical installations are functioning.
8. Filling artificial turf with sand and rubber
Silicone sand filler materials are used to protect and maintain the structure of
artificial turf. In order to distribute the material used for filling evenly, it is important
that large quantities of material are not placed on the turf at once. Do not load the filler material while artificial turf is moist.
9. Filling material distribution
Put the filling material on the spreader (such as those for sowing grass seed) and adjust the dosing meter
to 5 or medium. Always use the sand first. Vertically brush synthetic grass between each material layer using a hard industrial brush or electric broom. Brush until the height of the grass is 2cm and the height of its tips is 1.25cm. Using a hose, spray the entire surface to allow the material to settle properly.
10. Enjoy yourself!
Then rest and enjoy your new artificial turf that will be equally beautiful during every season.
When sports fields and restaurant gardens are concerned
In addition to artificial turf for residential use, there is also an option for commercial use, so if you are looking for artificial turf for a cafe or restaurant, playground or sports field, we recommend that you opt for commercial artificial turf.
When sports fields with artificial turf are concerned, no matter whether it is football, baseball, rugby or any other sport, Tarkett FieldTurf artificial grass provides athletes with safety and performance, and guarantees the owners of the field a long term investment.
If you want your commercial artificial turf to be professionally installed, the best solution is to hire a certified installer who will install the turf properly.
If you are interested in artificial turf for commercial use: for your cafe or restaurant garden, sports field, playground, or if you have any further questions, you can contact us here.
How should artificial turf be maintained?
Occasional brushing is vital and can be done mechanically or manually using a rake. If necessary, it is easily cleaned with plain water.
If you have opted for artificial turf,
in our collections we offer you good value for money. For information on artificial turf pricing and other information, please visit our stores.