Create an account and benefit from:
Easy sample ordering

Access to order history

Simplified contact with Tarkett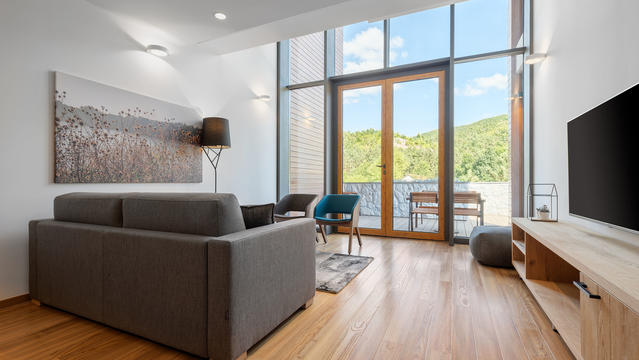 The Ramonda Hotel
Collections used
Hospitality, Travel & Leisure
MCS, Požega
Tarkett partner
Every year, Rtanj mountain attracts many tourists, mountaineers and scientists. Everyone who has visited this mountain at least once claims that the air smells differently here.
The astounding beauty of nature on Rtanj mountain makes the Ramonda Hotel the perfect holiday destination. A luxury holiday resort for enjoyment is designed as a place where life energy awakens and by choosing natural materials – stone and wood, it provides an atmosphere of nature and peace. 
Skilfully blended with the natural environment, the Ramonda Hotel has 21 accommodation units and can accommodate up to 90 guests. Its environmentally friendly amenities and large glass surfaces connect it with nature, which enables the guests of this hotel to be in perfect harmony with nature. 
Tarkett has enhanced its interior with natural materials by installing 600 m2  of Tarkett parquet Rumba Ash Bay. 
This parquet is an excellent choice because of its design which makes the interior warm and pleasant, as well as due to other beneficial characteristics it has: It is highly resistant to wear and damage, easy to install and has cost-effective maintenance. The narrow boards of smaller dimensions give greater dynamism to the floor, as well as liveliness and authenticity to the environment.
The Rumba parquet collection comes with a 30-year warranty.
If you strive for a blend between nature and elegance, Tarkett parquet is always an excellent solution.