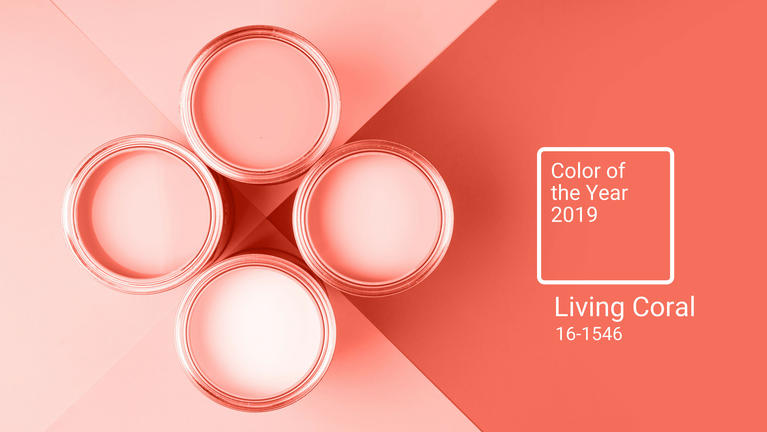 The colour of the year 2019 – living coral!
By choosing the colour of the year, the Pantone company has been dictating trends in design for as many as 20 years, in industrial design, fashion, graphic design, interior design, as well as in many other areas of design. The choice of the colour of the year is based on thorough research on contemporary trends, from socio-economic phenomena, entertainment industry, social networks to new technologies and materials. On the other hand, the Pantone company has an enormous impact on all aspects of design in which colours are important. After ultra violet, the colour of the year 2018, the choice for this year has fallen on a somewhat livelier, warmer and lighter shade: coral!
Coral, or the colour of living coral, (Living coral 16 – 1546) is a highly complex colour, both lively and soft, energetic and gentle. This colour perfectly illustrates the dynamics and complexity of the cotemporary era, inspired both by nature and ecology, as well as digital technology and social networks. In nature, this colour can be found only in the underwater world, which is why it serves as a reminder of how important it is to preserve the environment and reconnect with nature and the wildlife.
In interior design, this colour will most surely find its place, not only in details such as furniture pieces and household appliances, but also in the treatment of larger surfaces, such as walls, floors, even ceilings. This colour will not leave anyone indifferent because it brings natural tones and liveliness of a coral reef into your living space. Its optimism and playfulness are an invitation to socialise, to get together with friends and family, to have happy moments together. At the same time, it is intimate, creating the perfect scenery for creative thinking, calmness and meditation.
Details in coral
Coral is especially suitable if you want to bring liveliness and energy into your living space without having to redecorate the whole space. Details such as cushions, lamps, carpets, wall paintings or small decorative elements will surely refresh and bring the space to life without any need for large investments.
If you opt for larger and bolder interventions in the space, you can use this colour to put an accent on a certain wall or larger pieces of furniture, such as the kitchen or wardrobe. Coral living room or bedroom will be ideal welcoming interiors. Coral walls can be complemented and enhanced by adding textures, by using interesting materials, printed wallpapers and frames in the colour of the walls.
A somewhat easier way to incorporate this colour in the interior is by using furniture in the same tones – tables, chairs, armchairs, coffee tables, sofas, ottomans and other similar pieces. In case you do not want to buy new furniture, reupholster an old piece in coral textile or paint it in this colour. Such pieces will make your home more beautiful and create a completely new image in a very easy way.
Coral combined with other colours
Because of its intensity, coral combines best with white, black and all shades of grey, as well as other neutral shades. If you want to bring a touch of sophistication and luxury into your space, then a combination of coral and gold is the right choice.
On the other hand, if you want to bring a breath of nature and marine atmosphere into your space, you can achieve that by combining this colour with various shades of blue, from navy blue to turquoise.
Coral floors
In addition to these basic "tricks" you can use to enrich and enhance your home with coral, there is another way, which is for those who are a little bolder, and that is using coral for the floor. Today, when everything is allowed in interior design, why limit yourself only to wood designs when it comes to floors?
The iD Mixonomi collection of Tarkett's luxury vinyl tiles, in addition to a variety of shapes, offers different bright colours, as well, among which there are several Mixonomi designs in shades which are similar to coral and which will most surely make your floor extraordinary. In addition to luxury vinyl tiles, you can find shades of coral in linoleum collections, such as Trentino Grapefruit 530 design. By using this colour on the floor, you will definitely show your creative and playful side!
Coral is here to help us to make 2019 the year of joy and optimism. Refresh your home with coral and see why it is precisely this colour that was chosen to be the colour of the year by leading world experts.