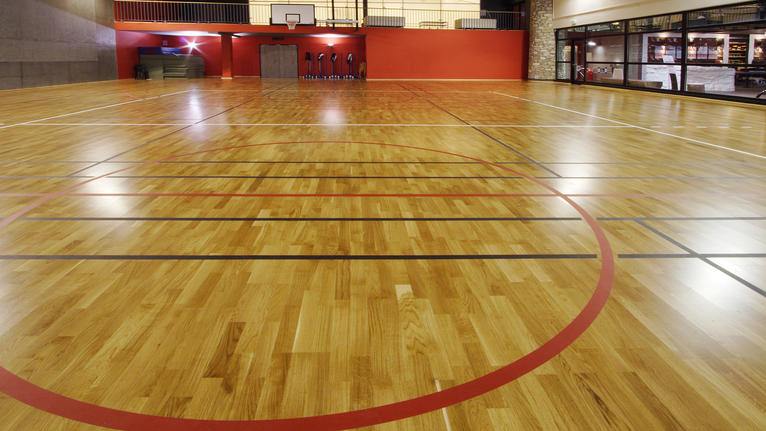 Tarkett sports surface solutions for indoor sports facilities
Are you building or renovating a sports hall? There are a number of questions you must answer. One of the important decisions is the choice of a suitable sports surface solution.
Choosing the type of sports flooring
Sports surface solutions for indoor sports facilities should meet numerous demands of different sports. Above all, a sports surface solution should be safe, i.e. it should not be slippery, but it should also not be too soft or hard, in order to protect the athletes from injuries. In addition, a sports surface solution provides a good ball rebound and with it, a high quality of sporting activities. Then, shock absorption, meaning the degree to which your sports surface solution absorbs shocks, increases comfort during play and player safety. All these characteristics, which any sports surface solution should have, have been defined in detail by European standards.
The purpose of the sports facility and the selection of sports flooring
First decide whether your sports hall is going to be used for sporting activities only or whether you are planning to organize non-sporting activities as well, such as concerts and various gatherings. If you are planning to use your hall for sporting activities, decide whether it is going to be one sport or more different sports, as well as which sports. It is of utmost importance for the selection of sports flooring to know whether the hall will be intended for professional or recreational sporting activities.
If it is going to be intended for professional sports, such as basketball, the right choice is the sports parquet, because it is long-lasting, it provides good ball rebound and shock absorption, and that way it guarantees excellent play quality. In case concerts are organized in the same sports hall, you can use textile or vinyl flooring to protect your sports parquet.
An excellent choice for school gyms are sports vinyl or combined sports surface solutions, which have a vinyl or linoleum surface on a wooden underlay, and which are softer than the surface of a sports parquet and are perfect for children and teenagers. In case you have a hall for volleyball, handball or table tennis, the right choice for you is the sports vinyl, because it is economical, and with it, excellent noise reduction and shock absorption are guaranteed, and it is available in a wide range of colours.
For further information on choosing the right sports surface solution for your school gym, please contact us through contact form or take a look at our sports surface solutions range to see what we for professional sports, recreation halls and school gyms.
When it comes to sports solutions, we recommend:
• Tarkett sports parquet
• Tarkett sports vinyl – Omnisports
• Lumaflex – a combined solution.
Tarkett sports parquets protect athletes from injuries, and thanks to their surface, which prevents premature and uncontrollable slipping of athletes on the court, they enable an excellent game quality.
Omnisports is a multifunctional vinyl sports surface designed to suit a wide range of sports events. Tarkett Omnisports is available in 6 different thicknesses in order to meet different demands in terms of shock absorption and other performance characteristics which sports flooring is required to have. 
Lumaflex is a combined sports flooring composed of a wood bottom layer and a vinyl or linoleum top layer. This unique combination makes the system incredibly reliable, because it meets the highest standards in terms of performance.