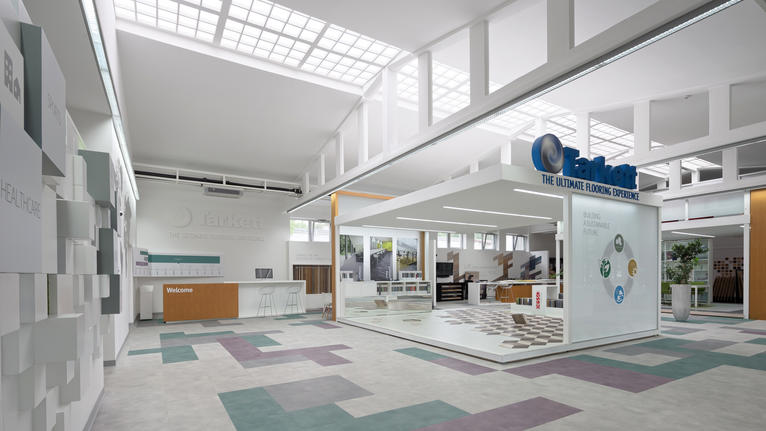 Tarkett Academy & Showroom
Tarkett Academy in Bačka Palanka is a unique training centre and showroom created on more than 1,000 m2 to offer full support for all professionals to find the best flooring solutions for various projects.
Its showroom features a range of Tarkett solutions in different areas from education, health facilities, hospitality, residential facilities to retail shops, as well as a presentation of Tarkett products – parquet, laminate, vinyl, linoleum, sports flooring. Within the Academy, there are also conference and areas for presentations, as well as space for flooring installation training and common areas.
Tarkett Academy in Bačka Palanka is part of the Tarkett Technical Expertise Center, located in France, supporting all others with ongoing backing and experience. By having the leading position, Tarkett also provides the opportunity for industry feedback, giving Tarkett knowledge of what is going on in the market place and what is important.
Tarkett Academy offers professionals at your service
Team of experienced flooring installation instructors, as well as product managers, are available when you need assistance. Besides trainings and consultation we also offer assistance to our partners with complex, technically demanding projects anywhere in Tarkett SEE zone.
Flooring installation training courses
Tarkett Academy organizes training courses for the installation of homogeneous and heterogeneous vinyl flooring, natural linoleum, parquet and for the installation of electrostatic flooring.
Tarkett offers different modules for installation training which suit your needs, including beginner and advanced training modules. The training courses consist of a theoretical and a practical part.
Upon successful completion of the training you will be awarded a certificate, after which you become a part of Tarkett's team of authorized flooring installers.
If you need further information, please contact us:
Tarkett Academy
Industrijska zona 8
21400 Bačka Palanka
Serbia
Tel: +381217557678
Mob: +3818557032
Email: Academy.Tarkett@tarkett.com