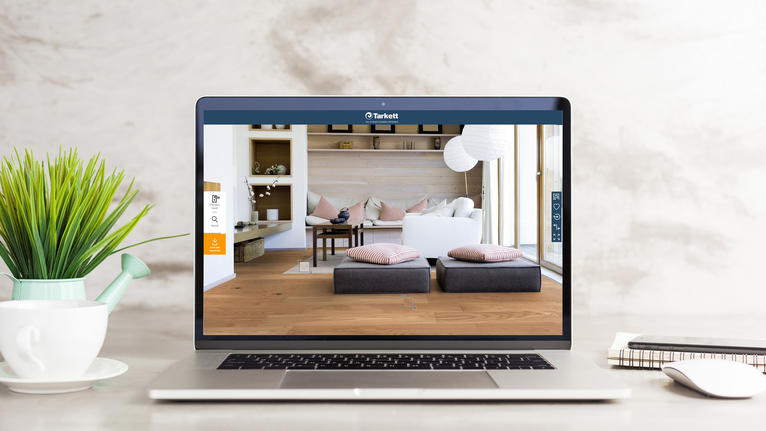 Room Designers: Visualize the floor in space
Visualize your interior or project
Room Designer will facilitate your choice of floor coverings and offer the possibility to experiment with colours and patterns. You can choose between different rooms (living rooms, kitchen, bedrooms, children's room, bathrooms and hallways...) and test how the chosen flooring affects the interior. After you choose the room, you can choose various designs of parquet, laminate and vinyl until you achieve the desired appearance of the space. You can choose flooring by collections or colours, and in addition to floors, you can also change the colour of furniture and walls.
After you choose the room and floor, you can:
• Change the direction of the floor installation (rotate floor)
• Record the desired view or room
• Compare the appearance of two different floors in the room
• Zoom in and download high-resolution photo
• Download the photograph of 3D design
• Print or share the photograph.
Try a new tool which shows designs and textures of Tarkett's products to you in real time and recommend it to your buyers. After you choose your room and floor, you can download the picture of the design in the following formats: 3D Studio, COLLADA, Wevefront. Visualize your projects using different types of floors, materials, colours or designs. 
Design your floor with the collection iD Mixonomi
Using the online tool iD Mixonomi you can play and make you favourite combinations of colours and shapes. After creating your pattern, you can download jpg or cad format, and a recipe with the list of products, so as to order the products for your flooring design.
ID SUPERNATURE & TATTOO, THE CUSTOMIZABLE LVT FLOORING
Want to customize the collection?
Tarkett presents the new customizable luxury vinyl tile collection with thousands of texture, tile format and tattoo combinations. Choose from the Choose from the 16 shades and 10 tattoo designs to create your flooring pattern online. The online flooring designer is a free web-based tool that will assist you in the process of creating your own luxury vinyl tile pattern. After creating your pattern, you will be able to visualize it in the room of your choice and download jpg and cad files of your pattern.
Visualize Sports floors
The Tarkett Sports designer allows you to look at Omnisport floors in the sports hall space.
Visualize the Omnisports V35, Omnisports V65 and Omnisports V83 vinyl sports floors in the dimensions of a standard sports hall or enter your space dimensions.
You can choose different sports fields, for volleyball, basketball, handball or badminton, as well as combine different sports floor patterns in different zones of the field. When you are done with the visual display of the floor, you can get the calculation for your selected floors, and save this data and photos of the visualized floor in pdf format. You can also request an offer for the selected floor from our sales representatives.