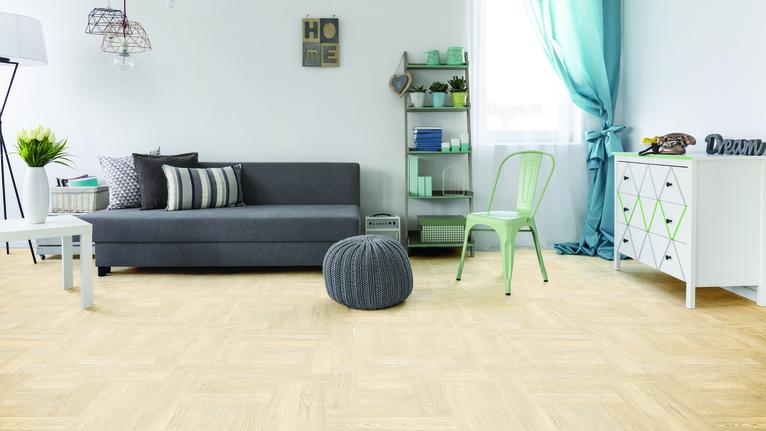 Vinyl or PVC is a floor which consists of five layers:
●    bottom compact layer - ensures additional product strength
●    foam back which ensures sound and thermal insulation
●    compact layer which prevents changes in flooring dimensions and appearance
●    top foam layer provides necessary flexibility and protection to the vinyl flooring
●    transparent layer ensures additional protection from wear and tear and increases flooring resistance up to 7 times
Benefits of vinyl flooring
Vinyl is suitable for installation in any room in your house owing to the following characteristics: 
●    vinyl flooring is available in a large number of colours and designs 
●    extremely comfortable floor when walking, which provides a sense of warmth 
●    vinyl flooring is highly-resistant 
●    practical
●    excellent absorption of noise caused by walking
●    they are simple for installation and maintenance
●    economical.
Installation of vinyl is simple
Regardless of how simple the installation of vinyl is, it requires several preliminary steps:
●    Prior to installing vinyl floor coverings, it is necessary that you adequately remove the existing floor covering
●    The surface onto which you install vinyl flooring must be dry, clean and flat. If the surface is uneven, it is necessary to use a levelling mass
●    in order to adjust the floor covering to the conditions in the room, vinyl flooring should be kept at least 24 hours in the room in which it will be installed, at room temperature
●    Prior to the commencement of its installation, unroll and measure your vinyl flooring. You will thus avoid the disappointment if you do not have enough material.
●    When cutting vinyl, always add 15-20 cm in length
●    Vinyl may be installed in three manners: duct tape, by gluing, and without gluing. The method of installation depends on the passability of the room in which the floor covering is installed.
Easy maintenance
Vinyl maintenance is simple, fast and easy. In order for your floor to look perfect during a long period of use, it must be regularly cleaned and adequately maintained.
Wiping or vacuuming will be sufficient for everyday vinyl cleaning. It is enough to wipe the floor once a week, or more often if necessary, with mop or slightly moist cloth previously moistened with warm water and neutral cleaning agent. Stains and spots can be easily removed by detergent and then rinsed.
Tarkett vinyl will create a unique sense of comfort and beauty in your home. In order to choose vinyl flooring which best matches your requirements, explore our vinyl collections.
Vinyl floor coverings will suit everyone's style and taste: combinations of colours and patters, different dimensions and shapes of panels, stone or wood appearance, glossy or matte...