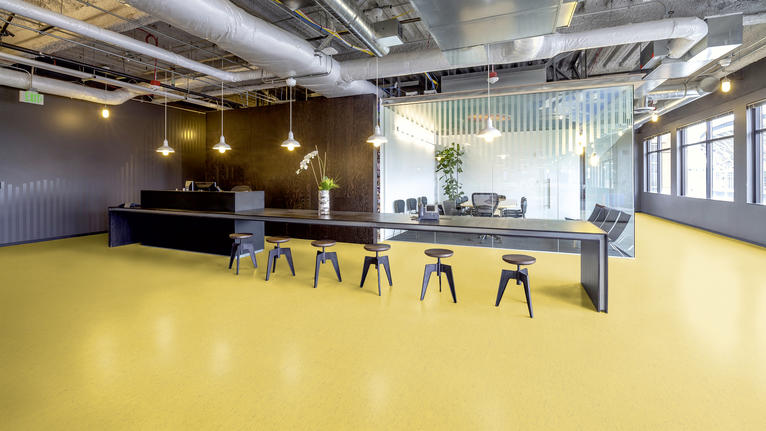 Linoleum is a popular, although incorrect name for vinyl flooring. 
At first glance, linoleum and vinyl are very similar, while their composition varies greatly. Linoleum is a 100% degradable and made out of natural ingredients. Linseed oil, chalk, wood, pine resin and various pigment types are used to manufacture linoleum.  
Owing to such composition, the Tarkett linoleum is an antibacterial, antiallergic and antistatic material.
During the production process and use of linoleum, there are no toxins that may be harmful to people and the environment.
Due to evaporation of pine resin, linoleum is even useful for people with respiratory issues.
What are the advantages of linoleum?
There are numerous advantages of linoleum:
• linoleum is natural and ecological, 100% biodegradable material
• linoleum is warm and comfortable when walking
• linoleum is a flooring material which is antistatic, antibacterial and antiallergenic owing to its composition. This makes it ideal for rooms with allergic persons, persons with respiratory disorders, as well as for rooms that require intensive maintenance, such as medical facilities, schools, kindergartens
• extremely durable flooring - may last up to 20-30 years, even longer if maintained properly
• facilitates and absorbs joint pressure - it is comfortable, which makes it suitable for rooms where longer standing is expected, such as doctor's offices, offices, kitchens
• due to softness and insulating qualities of linoleum, it is a great sound and thermal insulator: all sounds remain inside rooms, and the external sounds do not penetrate inside. Comfort is thus provided to all users of such area
• wide array of colours and designs – linoleum designs may resemble natural materials such as marble, and if we are using linoleum panels, we can achieve various effects and obtain different styles in space using a combination of colours and designs.
Tarkett linoleum will create a unique sense of comfort and beauty in your home or office space
Explore our linoleum collections to choose the collection that best suits your requirements. 
Linoleum maintenance is simple
Extremely simple maintenance is one of the advantages of linoleum. It is sufficient to periodically vacuum and wipe linoleum with a cloth moistened with water and several drops of neutral cleaning agent. Should your floor lose freshness and glow, you can quickly and easily restore its original appearance by coating it with a polishing agent. You can find detailed information on maintenance in the manufacturer's manual.  
How to install linoleum?
It is necessary to perform several preliminary steps prior to installing linoleum:
• The installation of linoleum requires adequate removal of the existing floor covering prior to installation
• The surface on which linoleum is installed needs to be dry, clean and flat. If the surface is uneven, you should use a levelling mass.
• in order to adjust the floor covering to the conditions in the room, linoleum should be kept at least 24 hours in the room in which it will be installed, at room temperature
• Unroll and always measure linoleum prior to the commencement of installation, thus avoiding disappointment if you do not have enough material
• During cutting of the linoleum floor covering, you need to add 15-20 cm in length
• Linoleum may be installed by adhesion to the surface.