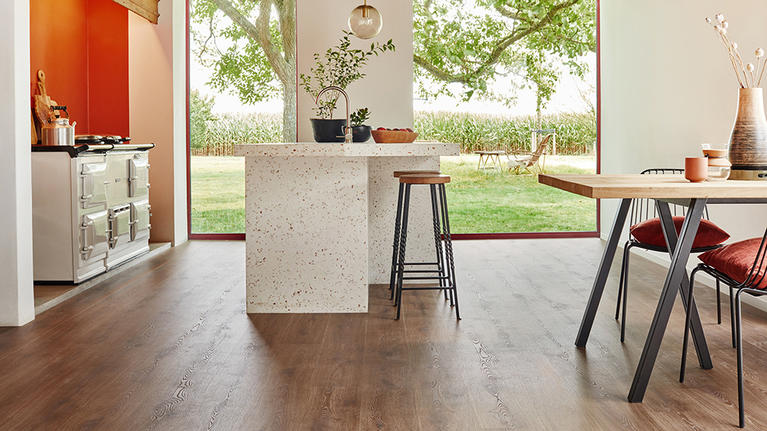 Laminate installation – easier than you might think
What preparations are necessary for laminate installation?
When choosing flooring, the speed and ease of installation is often one of the most important criteria and one of the reasons people often opt for laminate. Laminate installation is easy – faster and easier than you might think, and your DIY laminate installation will be perfect, even on parquet, vinyl, older laminate or tiles.
What preparations are necessary for laminate installation?
In order to install laminate, the underlay on which the laminate is going to be installed must be clean, dry and flat. The laminate must be allowed to acclimate to the temperature of the room in which it is going to be installed. The packed laminate boards must stay in that room for at least 48 hours before installation. Determine the direction in which the laminate is going to be installed. If the room is rectangular, lay the laminate boards parallel to the longer wall, and if the room is square, lay the laminate boards  towards the main source of light. If you are installing laminate in a corridor, always lay the boards along it.
How to install laminate?
Laminate is installed as a "floating" floor – it is installed by locking, without using glue, which means that you are not fixing the boards to the underlay in any way. All you need in order to install laminate on your own are a pencil, a ruler and a saw. Tarkett laminate boards are joined in a very simple and firm manner due to the innovative joining system: the T-lock angle system and the "2-lock" overlapping system which makes the installation significantly easier and faster. One "click" is enough to lock your laminate securely in place for many years to come!
Don't forget the expansion gaps
Laminate is a type of flooring which contains natural materials, as well, which means that it expands and contracts in response to changes in temperature and humidity. That is the reason why it is important to leave expansion gaps during installation ranging from 8 to 10 mm between the flooring and the walls, pipes, spacers, etc., so that the floor can "breathe".
Can laminate be installed over underfloor heating systems?
Tarkett laminate is suitable for installation over an underfloor heating system, provided that the heating element is installed in a screed or concrete. Unless otherwise specified by the manufacturer of the underfloor heating system, laminate flooring is not suitable for installation over a heating foil laid on concrete or other underlay, and the temperature of the laminate surface must never exceed 28°C.
 
You can install and start using Tarkett laminate on the same day!
A large number of appealing designs, a floor which is comfortable and warm, long-lasting, resistant to shocks and scratches, does not cause allergies and is easy to maintain – these are some of the many benefits of laminate. Take a look at Tarkett laminate collections.
 
Laminate accessories
Accessories, but essential !
The range of Tarkett laminate products has been designed so as to offer solutions for the requirements which are typical when it comes to our business partners, for the purpose of establishing long-term relationships, as well as of meeting the needs of end consumers. We offer a full range of high-quality products and a comprehensive range of professional accessories: 
•    Glue* 
•    Laminate skirting;
•    Laminate underlay;
•    Laminate installation tools
•    *We recommend a floating installation, without glue.