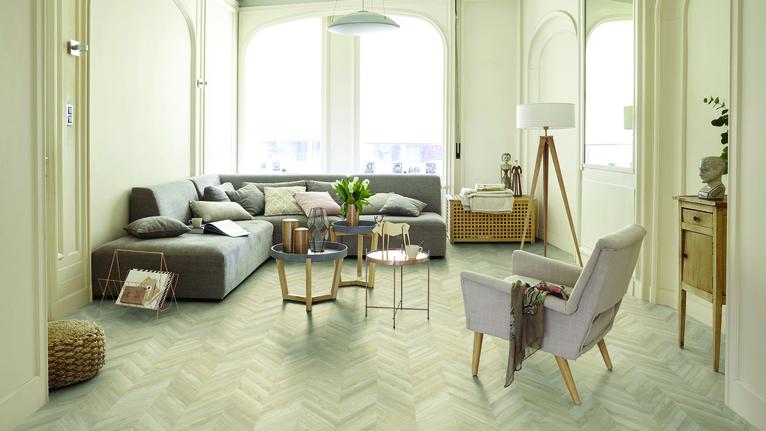 What is laminate?
Laminate is a material composed mostly of wood - wood makes up 80% of the Tarkett laminate and it is located in the middle layer, while the laminate surface contains a decorative layer of printed paper, which largely determines its quality and appearance.
Laminate consists of four layers:
●    The upper, surface layer, ensures laminate durability, resistance to wear and tear and stains;
●    The decorative layer made of printed paper gives it its final appearance and provides limitless possibilities for creating designs
●    Owing to the third, carrying layer, which consists of high-density wood fibreboard, the laminate achieves its firmness; 
●    the last layer is the balancing layer, the purpose of which is to protect the floor from moisture penetration.
There are numerous benefits of laminate:
● Very comfortable flooring which ensures high thermal stability
● Acoustic lining will keep the noise outside your living space
● Improved impact resistance, Tarkett laminate is ideal flooring material for children's rooms and kitchens
● Maintenance is simple - it is sufficient to only wipe it and vacuum it;
● The Tarkett laminate is treated using a special method so as to be resistant to water penetration;
● The Tarkett laminate offers a variety of designs owing to new printing techniques: wood, stone, graphics, overturned edges; and surface effects - glossy, matte, relief finishes, anti-slip surface;
● Economical floor
● Owing to new connection systems, the installation is simple.
Large selection of designs
When it comes to design of rooms, laminate floors offer many possibilities. The upper layer of the laminate floor made of decorative paper offers limitless printing possibilities - design of tiles, stone, parquet, graphic designs... 
Laminate flooring is comfortable
Owing to the large percentage of wood in its composition which also provides natural thermal insulation, laminate is a comfortable flooring. If you install an acoustic base below the Tarkett laminate, you will have more comfort under your feet and you will eliminate the noise from your living space.ace.
Tarkett laminate is resistant
The laminate construction ensures its resistance to damages and scratches during its normal everyday use in your home. Laminate flooring can withstand heavy furniture without occurrence of recesses in the floor. The upper, surface layer of laminate provides resistance to scratches and colour changes and makes it suitable for busy areas, e.g. living rooms, hallways and children's rooms. 
Practical flooring
The firm system for locking in laminate boards prevents dust build-up at the junction of two boards. The laminate surface is impervious to stains, and the melamine surface coating prevents development of bacteria on the laminate surface. Regular wiping and vacuuming is all that is required for the maintenance of laminate flooring.
Easy to install
The installation of laminate flooring requires firm and dry surface with minimum tools. You can walk on your floor as soon as you install it, since the installation of laminate is carried out without glue. With the new system for connecting Tarkett laminate, the installation is simple and you will need 50% less time for installation. 
You can contact us for additional information or seek information at the nearest store. 
How to choose laminate flooring?
You have decided to replace the flooring in your home or you are furnishing your apartment and need assistance regarding the choice of new laminate flooring? You can find some advice on the choice of laminate flooring below.
Laminate colour
The laminate colour affects the overall impression and perspective of the room. Properly chosen colour can visually expand or lengthen a certain room. If you wish to visually enlarge the room, install a lighter flooring, while darker flooring makes the toom visually smaller.
In larger rooms, you should place laminate flooring with large patterns, and small patterns are a better fit for small rooms. A small pattern in a large room may seem too playful. When choosing the laminate colour, it is necessary to take into account the existing furniture in the room and wall colours. Wall colours should be at least two shades brighter or darker relative to the flooring colour. 
Check the range of Tarkett laminate flooring and choose the appropriate colour for your home.
Surface effects
Laminate faithfully depicts the surface of parquet, tiles or stone owing to the modern surface treatment technologies. You can choose between glossy and matte surfaces to create a classic or modern appearance.
New 3D effects faithfully represent cracks and look of rustic or used wood, alternately combining matte and glossy surfaces. Play of light and shadows on the laminate surface faithfully represents the depth and specific wood characteristics.  
Room in which laminate is placed
When choosing laminate, it is necessary to take into account the room in which the laminate is installed. The laminate which is installed in the kitchen must be resistant to moisture and have an anti-slip surface. In addition to this, it must also have a hygienic and highly-resistant surface, in order to remove stains and spots quickly and smoothly. In hallways, children's and living rooms, the passability is usually larger than in the bedroom, thus it is necessary to choose laminates which have a more resistant surface and resist damages caused by dropping of toys and recesses caused by moving heavy furniture.
Laminate installation
Prior to installing laminate, it is necessary to allow floor coverings to adjust to the temperature of the room in which they will be installed. Packaged laminate boards should be left in the room at least 48 hours prior to their installation.  During acclimatization of the floor coverings, use the chance to determine the direction of installation! You should always take into account the source of light and the main direction from which the floor will be observed.
Tarkett suggests to lay the laminate boards lengthwise in accordance with the main observation direction and the main source of light.
Prior to the commencement of the installation of laminate flooring, several simple checks should be performed. The surface on which laminate is installed needs to be dry, flat and clean. Since the installation in question is floating installation, the laminate may also be placed on top of vinyl flooring, parquet, laminate or tiles. Prior to the installation, the surface needs to be levelled, and in the event of installation over an existing flooring, it should be inspected whether boards/panels are well-glued and flat.
Owing to the unique system for joining laminate boards, the connection is very simple. Take the long side of the board, lower it and join it with another board. The connection is completed when you hear a "click"!  
Installation of laminate flooring on top of underfloor heating
The laminate flooring is suitable for installation over an underfloor heating system, provided that the heating element is installed in the concrete or other surface. Laminate floor coverings are not suitable for installation over a heating foil placed on concrete or another surface, unless otherwise specified by the underfloor heating manufacturer. The surface temperature of the laminate floor covering should never exceed 28°C.
Laminate floor coverings may be installed over underfloor heating systems which use low-temperature water with the maximum surface temperature of 28°C. 
Standard underfloor heating systems with electric heating foil can often achieve a temperature larger than 28°C on the surface when they are increased to the maximum working temperature, which is not compatible with the laminate floor coverings. If you use an electric underfloor heating system, make sure they you have a self-regulation system which will prevent the temperature from ever exceeding 28°C.
Laminate cleaning and maintenance
Laminate cleaning is very simple. For regular laminate maintenance, it is necessary to periodically vacuum and wipe your laminate with a dry cloth. If you believe it to be necessary, you can wipe the floor with a damp cloth every two weeks. Use the laminate cleaning agent, then rinse the cloth well, and finally wipe the floor with a dry cloth. 
Remove the stains and spots from your laminate as soon as they appear. Wipe the stain with a clean and dry cloth, moistened with appropriate cleaning agent. Never directly apply any cleaning agent to laminate in spray. When using a solvent or concentrated cleaning solution, first read the advice regarding safety!
Below you can find advice regarding cleaning of various stains from your laminate. 
Kako očistiti različite mrlje sa laminata? 
Below you can find advice regarding cleaning of various stains from your laminate.
Cleaning rubber, plastics and heel stains from the laminate
Firstly, wipe the stain with a dry cloth. Use acetone if necessary. Once that spot is dry, clean it with a white nylon pillow.
Cleaning blood stains from the laminate
Wipe the stain with a lightly moistened cloth. If the stain is dried, wipe it using a dry nylon pillow.
Cleaning fruit, milk and beer stains from the laminate
Remove the stain using an absorbing dry cloth. If the stain is dried, clean it using the appropriate cleaning solution, and then dry the surface by wiping it with a dry cloth.
Cleaning wax and chewing gum stains from the laminate
Once hardened, these stains may be removed using a blunt plastic scraper.