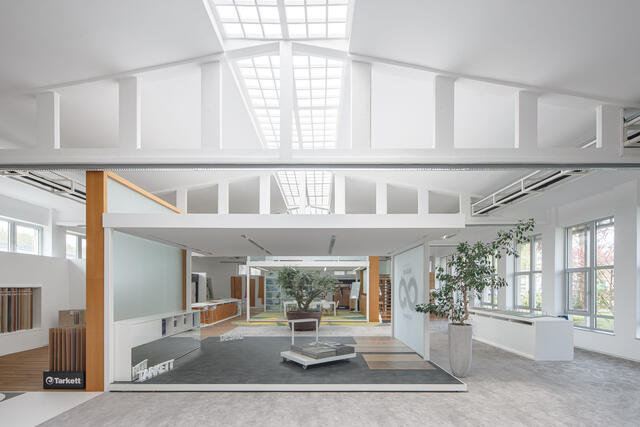 Professional flooring installation trainings are held at the Tarkett Academy, an educational and training centre located in Bačka Palanka, comprising an area of over 1000 m2.
The training centre is situated in the immediate vicinity of the production facilities of Tarkett doo, where Tarkett parquet, vinyl, carpets and rugs are being produced, thus you will have the opportunity to visit the production plant, but also to get acquainted with the wide range of Tarkett products and the innovations displayed in the Tarkett Academy showroom.
Products are becoming more and more complex and their installation more and more precise. Training centres are an important competitive advantage due to the fact that they will allow you to improve your skills and refresh your knowledge. Be open to new possibilities and educate yourself about new flooring systems and installation techniques.
PRACTICE
The product managers team and the Tarkett Academy manager will provide you with dynamic and interactive training, which represents the combination of theoretical and practical aspects of the training. The Tarkett Academy manager demonstrates step-by-step operations and gives you practical advice, while the product managers are here to present the products and answer your questions about floor and wall coverings: standards and classifications, maintenance, adhesives, restoration, welding, finishing and much more. 
What distinguishes the Tarkett Academy in Bačka Palanka from other similar trainings and events is that it comprises high-quality training with mandatory practice.
The Tarkett Academy possesses 10 work booths intended for on-site practical training of installation, welding and other activities. You will have the opportunity to work in a space where there are a staircase, different corners, pillars, and you will practice welding, as well as installation in wet areas, installation on the wall. Larger surfaces for laying of larger rolls are available in the Academy, which makes the full-size reconstruction of different situations possible.
Professional training focused on installation and maintenance techniques is intended for installation companies, technical services, contractors, companies dealing with professional building maintenance...
If you want to improve or learn the skill, please register with the Tarkett Academy. 
TRAININGS
Various modules are available, depending on interests and needs, including starter and advanced modules. Tarkett Academy organizes training courses for the installation of homogeneous and heterogeneous vinyl flooring, natural linoleum, parquet and laminate, carpet tiles, LVT flooring, as well as for the installation of electrostatic flooring.
Training courses upon request and in-house training courses for partners
We organize training courses upon request (product knowledge, installation, maintenance etc.) for our partners in our training centre in Bačka Palanka, but we also visit sites directly and offer assistance to our partners with complex, technically demanding projects anywhere in the Tarkett SEE zone.
Upon successful completion of the training, you will be awarded a certificate, after which you become a part of Tarkett's team of authorized flooring installers.
You can find an overview of basic training courses and their prices HERE.
Do not hesitate to inquire and learn more about our a la carte training and the related certificates. For any request or additional information, please contact us at: Tarkett.Academy@tarkett.com or by phone 00381648557885; 00381648557678;
For all requests outside the Republic of Serbia, contact us!
Application for Tarkett Academy