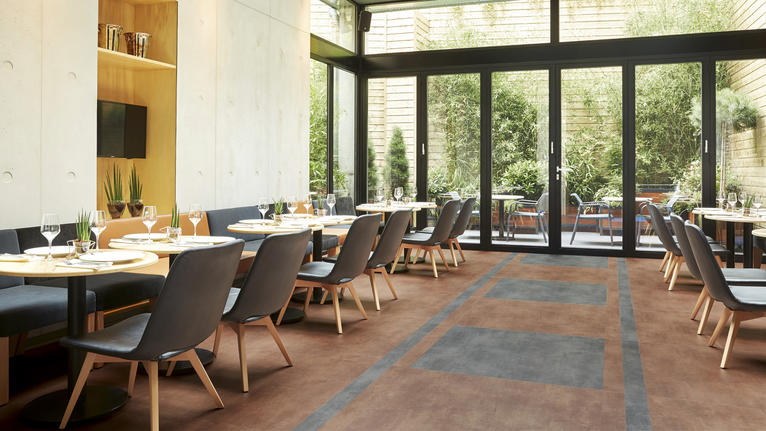 Floors that change everything - LVT
What are LVT floors?
Tarkett LVT floors are floor coverings ideal for the use in commercial spaces, such as hotels, cafes, restaurants, boutiques, offices, but also for homes. In addition to the exceptional performances, Tarkett LVT floors are excellently designed and have a large number of patterns, based on nature and the newest design trends in the international floor industry.
What advantages do the LVT floors offer?
LLVT is the fastest growing category of floors in the world. Due to their innovative design, Tarkett LVT floors offer an answer to every requirement of the floor market.
The benefits of Tarkett LVT floors:
• A wide selection of patterns: rock, wood, textile, metal...
• Modularity - Available in the form of a plank, panel and in the shape of unequal angles offering complete freedom of design with endless combination possibilities of various shapes and dimensions of LVT's in order to form a unique unit.
• Acoustics, a very quiet floor
• Comfortable and warm floor
• Very durable, suitable for high-traffic spaces
• Easy to clean and maintain, highly resistant to impact, scratching and stains
• The installation is quick and simple, which is especially important for space renovation.
How to install LVT floors?
Tarkett LVT floors can be installed in 3 ways:
1. Gluing - recommended for high-traffic spaces
2. Using the click system - installation without gluing
3. Loose-lay installation – installation without click or gluing.
"Loose lay" installation system is an innovative way of installing LVT floors suitable for the installation in retail, business and catering objects because installation and disassembly can be done "overnight", in other words, within a few hours. Thanks to that, the renovation of rented spaces is quick and simple. You can quickly disassemble the floor whenever you wish to do so, but the existing covering will not be damaged by glue.
After it has been installed, you can immediately start using the LVT floor.
It is important that the LVT floor is perfectly installed, which is why Tarkett instructs floor installers how and in which manner they should install our floors. We recommend that you hire a certified installer for the installation of your LVT floor.
Before you choose LVT, you should know:
·      LVT final details - decorative floor strips and moulding will help with harmonizing and amplifying contrasts in the floor covering pattern resulting in a perfect final look.
·         Additionally, LVT floors can be installed over ceramics.
·      Durability is a benefit of LVT floors which provides longevity and reduced maintenance cost.
·      Makes living space and work environment more beautiful and nicer to live in. Tarkett LVT is designed according to the leading interior design trends and in accordance with the strict ecological standards.
·      Your ideas can be turned into unique floor concepts. Tarkett offers special purpose Floorcraft service for the projects that require a higher degree of design individualization.  Tarkett already possesses a pattern bank, but ordering a completely unique solution for your floor is also possible. Floorcraft patterns are assembled in the factory and sent to the address, and the installation is quick and simple with detailed floor installation plans.
·      Depending on the collection of your choosing, the warranty for the entire LVT assortment amounts to 10-20 years.
Find a solution in the Tarkett LVT collections
Find a floor solution for commercial and residential spaces in the Tarkett LVT collections. In our collection, you can explore new options, various structures, colours and shapes for the ideal design for your floors.
Enjoy the latest collections and be creative with your floor solution.
Where can LVT be purchased?
You can purchase Tarkett LVT floors from our authorized retailers. You can check the prices and other information if you contact the nearest retail store.
You can easily find a store near you with our store search tools.
Our references
LVT floors are an ideal solution for retail spaces, restaurants, cafes, offices, beauty salons, residential and other spaces.
In our references, you can see how LVT floors look in retail stores, offices and other spaces.