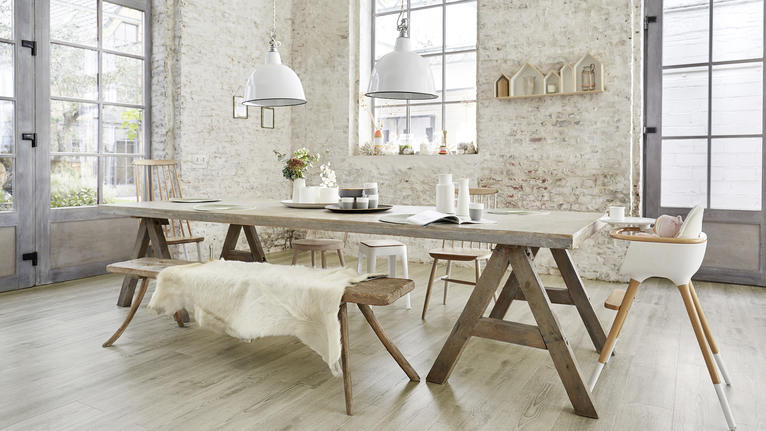 CLEANING AND MAINTENANCE OF FLOORING
How to maintain parquet?
By selecting Tarkett parquet you have made the right choice. However, while a quality product and suitable installation are extremely important, proper maintenance of parquet is also crucial for your long-term enjoyment.
To preserve all the beauty of your Tarkett parquet, simply follow very simple instructions:
•    Wipe or vacuum your parquet regularly in order to remove dust and eliminate abrasive particles that can scratch the finish.
•    After spilling water on it, wipe off the liquid immediately.
•    Be careful with high heels and some kinds of sports footwear, particularly if they are worn or damaged. Only water and sand are even greater enemies of wooden flooring than high heels. Actually, high heels can damage every floor, even the one made of cement.
•     Put the doormats from the outside and inside of the entrance to prevent accumulation of sand and dust on the floor.
•    Place rugs in front of the sink, dishwasher and every work place in the kitchen to protect your floor from accidents in the kitchen, such as dropped dishes and spilt water, detergent and food.
•    Avoid rubber or other compact mats that prevent air flow, abrasive dirt and moisture.
•    Affix felt pads to the bottom part of the furniture or chair legs to facilitate movement and prevent scratches. Keep the pads clean and replace them if they get damaged.
How to maintain laminate?
Today's modern floor coverings are products that have a function, they are cost-effective for possession and have the best performance in the long term. A surface layer of Tarkett laminate prevents the development of germs and bacteria. The well sealed surface is stain resistant and the strong locking system prevents the ingress of dust and dirt into the joints.
•    Clean the laminate regularly with a microfiber cloth or by using a vacuum cleaner. If necessary, you can slightly wipe the floor with a damp mop (the floor should be dry after 15 seconds).
•    Every two weeks use the agent that is intended for cleaning the laminate, thoroughly rinse the mop and finish by wiping the floor with a dry mop. 
•    Immediately remove stain and spots from laminate. Rub the stains using a clean, dry mop, moistened with a dedicated cleaning agent. 
•    Fix the dents and scratches by using the Tarkett Repair Kit.
 
Cleaning and Maintenance Instructions
You need particular cleaning and maintenance instructions? Look for the document Cleaning instructions in the Documentation Centre by searching the product or the collection name. Here you can find the instructions for cleaning linoleum, commercial vinyl, sports surfaces, parquet and laminate: