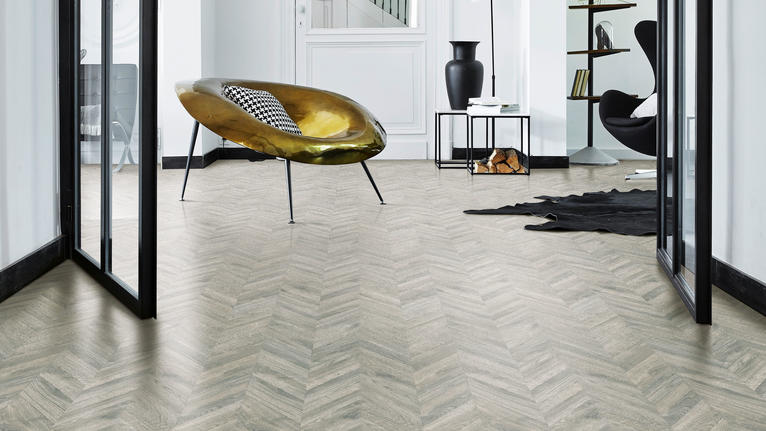 All about flooring
WHAT IS TARKETT MULTILAYER PARQUET?
The main difference between Tarkett multilayer parquet and classic (solid) parquet is its structure.  The Tarkett multilayer parquet consists of 3 layers of wood attached at an angle of 90 degrees. The upper layer of the parquet is made of hard wood, and the middle and bottom layer are also 100% made of wood. Fir, pine or spruce is used for the construction of the middle layer, while the same wood types are used for the bottom, rear veneer. 
LINOLUEM
Linoleum is a popular, although incorrect name for vinyl flooring. At first glance, linoleum and vinyl are very similar, while their composition varies greatly. Linoleum is a 100% degradable and made out of natural ingredients. Linseed oil, chalk, wood, pine resin and various pigment types are used to manufacture linoleum. 
RESIDENTIAL VINYL
Vinyl or PVC is a floor which consists of five layers:
●    bottom compact layer - ensures additional product strength
●    foam back which ensures sound and thermal insulation
●    compact layer which prevents changes in flooring dimensions and appearance
●    top foam layer provides necessary flexibility and protection to the vinyl flooring
●    transparent layer ensures additional protection from wear and tear and increases flooring resistance up to 7 times.
 
LAMINATE
Laminate is a material composed mostly of wood - wood makes up 80% of the Tarkett laminate and it is located in the middle layer, while the laminate surface contains a decorative layer of printed paper, which largely determines its quality and appearance.
FLOORS THAT CHANGE EVERYTHING - LVT
Tarkett LVT floors are floor coverings ideal for the use in commercial spaces, such as hotels, cafes, restaurants, boutiques, offices, but also for homes. In addition to the exceptional performances, Tarkett LVT floors are excellently designed and have a large number of patterns, based on nature and the newest design trends in the international floor industry.