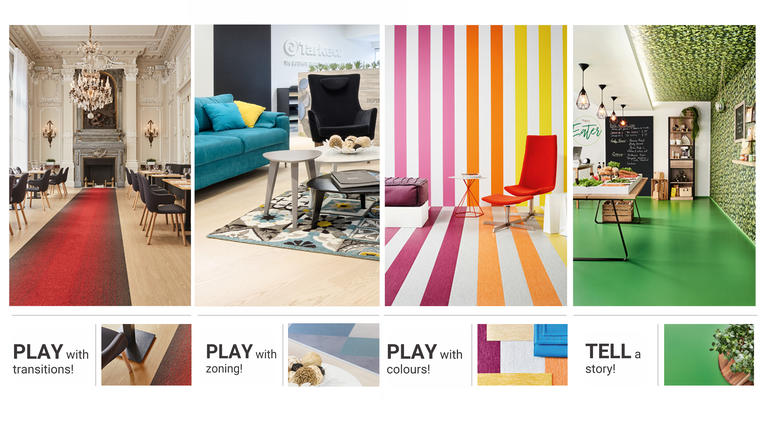 4 WAYS IN WHICH FLOORS CONTRIBUTE TO THE BEST USER EXPERIENCE
4 modern and inspirational ways for combination of colours, textures and formats of flooring in hotels and restaurants
Follow a clear path
Guests in hotels and restaurants prefer easy and simple experience, possibility to get by in space on their own, without getting lost and having to ask for directions. Selection of a different flooring for marking the path through your shop or restaurant, such as a carpet runner or attractive combination of colours and shapes in flooring, represents an ideal method to direct your guests and make visits to your shop or restaurant a pleasant experience. Creation of routes and points to which attention should be paid owing to the contrast between various floor materials can also create a strong designer message and provide additional recognition to your brand. 
Tell your story
Brands tell stories - stories about their products and people creating them. Brands are primarily selling experience. Department stores, shops or restaurants represent a great chance for brands to involve their customers in that story, and the interior design can significantly contribute to that. Regardless of whether your brand draws inspiration from nature, travel, innovations or art, the selection and combination of real floor materials and colours can make the experience of your customers more or less special. 
Play with colours
Colours give brands a personal touch and offer more direct and emotional brand experience to the customers. Choose colours that best fit the story you wish to tell. For instance, colours leave a strong impression on the mood of your customers: use orange to stimulate appetite, green to calm them, yellow to awaken their energy, blue to inspire them. Mixing of various bright colours on flooring can contribute to the creation of an atmosphere imbued with energy. Colours will primarily help your customers to remember your brand. 
Keep your customers
Shops, restaurants or office spaces possess different zones. Use of various flooring materials such as carpets for these special zones can help the buyers identify them and make the experience pleasant. Also, it can attract buyers into specific spaces where you placed certain products or simply create a modern and pleasant atmosphere owing to the combination of wood, laminate or LVT floors. 
Check retail, restaurant or hotel interiors and find inspiration for interior design. If you are inspired by a specific combination of floors, visit the product page on our website and explore our collections.