Create an account and benefit from:
Easy sample ordering

Access to order history

Simplified contact with Tarkett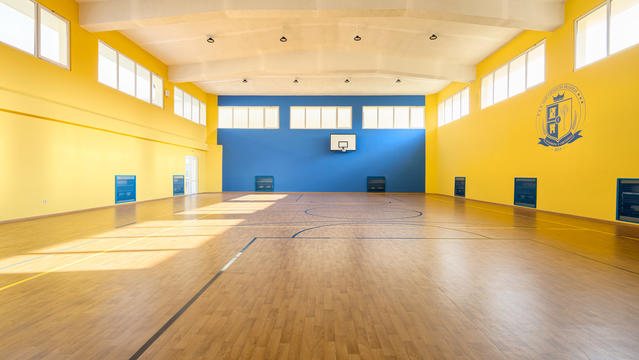 Tzar Simeon Veliki Private School
Collections used
Sports & Wellness
At Tarkett, we are developing sports surfaces adapted to the design and functionality of sports halls in educational institutions. Sports are fun, but it is also important that they are safe. Sports surfaces should absorb shocks and protect from injuries which can occur due to the intensity of the impact against the surface.
The Tzar Simeon Veliki private school found a solution for its sports hall in the Omnisports Reference (6.5 mm) sports surface collection.
Omnisports Reference (6.5 mm) is quality vinyl flooring intended for use in sports facilities. It is an ideal solution for frequently used multipurpose sports halls, especially for sports such as handball, basketball and volleyball in primary and secondary schools. It is treated with Top Clean XP surface protection which ensures additional durability and cost-effective maintenance.  
Tarkett sports surfaces are suitable for a variety of sports: basketball, volleyball, handball… while being wear-resistant at the same time. As they have additional protection from damage and wear caused by moving heavy chairs and tables, they can be used for concerts and other events not related to sports. In this way the functionality of the hall can be used to the full extent while the floor remains in good condition thanks to its resistance.