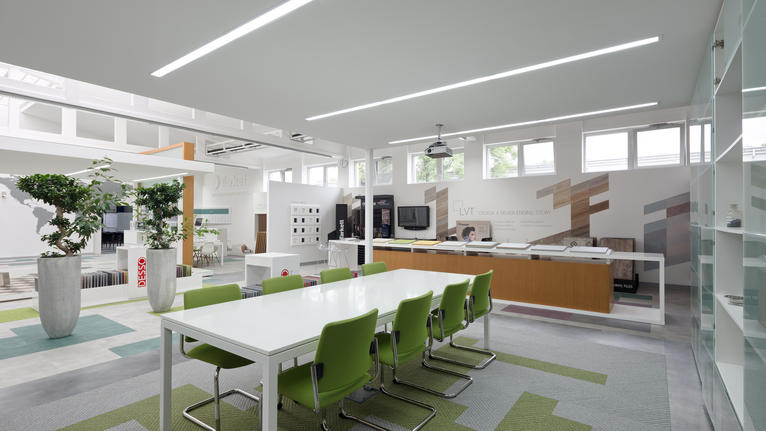 Tarkett Academy is a very special place – business crossroad where all our partners meet and learn from each other, point in which our future interests converge and partnership happens.
Diversity of product range and recognized expertise in various markets make Tarkett solutions the preferred choice for customers of all types – retailers, distributors, architects, specifiers, installers and consumers.
Architects & Investors
Our partners can get superior merchandising and trade marketing concept. At Tarkett Academy, we deliver advanced product knowledge through custom made Sales personnel trainings. Access to technical support for key partners is available both at the Tarkett Academy and onsite for larger projects.
Architects are assisted for best solutions in their projects. At Tarkett Academy they can explore company's worldwide experience and innovative products with trendy design. All of them will be empowered with knowledge and solutions to assist
the decision making process, highlighting the issues that need to be considered when selecting flooring. 
Investors and specifiers benefit from a widest range of products and superior expertise. Whether for private homes, public buildings or sports
installations, the unmatched variety of Tarkett's products provides the basis for integrated solutions tailored to meet the specific needs of each customer.
Education and partnership with installers ensures best experience for our customers and lasting performance of our products. Tarkett Academy provides installers education and a chance to develop professional skills contributing in a large scale projects. 
At every step of your project
Whether you are retailer, distributor, architect, installer, specifier, or consumer – Tarkett Academy will provide you superior of your project.
Tarkett Academy
Industrijska zona bb
21400 Bačka Palanka
Serbia
Tel: +381217557673
Email: Academy.Tarkett@tarkett.com