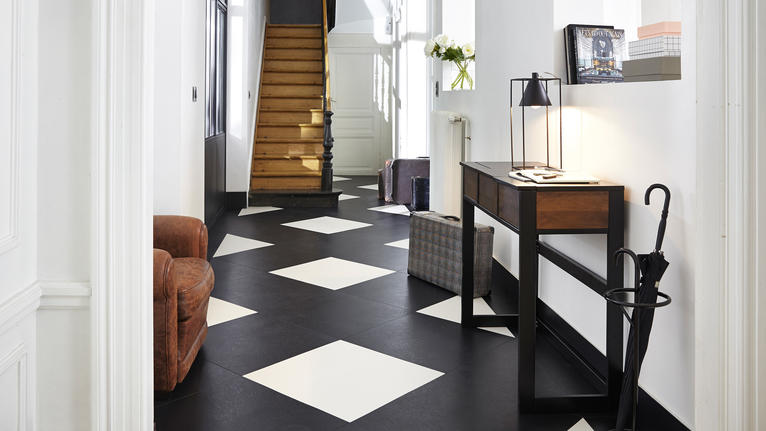 Modular vinyl flooring solutions offer major benefits and infinite design possibilities
In order to create unique brand identity atmospheres in stores & shops, but also in hospitality & leisure areas, projects designers need both design and resistant flooring solutions. At Tarkett, we think that one of the best solutions is modular vinyl tiles flooring.
Historically, modular vinyl is undoubtedly a material used for its mimic potential, at a reasonable cost. However, most recent technology enabled vinyl material to give incomparable results of more than realistic wood, stone, concrete or metallic effects.
On another hand, modular vinyl flooring enables to create unique layouts thanks to various shapes, from rectangles to squares. In October, with iD Mixonomi new collection, architects and designers will have access to hexagon, diamond, triangle and herringbone too, in tall and small formats.
Besides the modularity, the creative advantages of vinyl flooring suffers no comparison with true material. With iD Inspiration range, you can find wood, stone, concrete, metallic, woven textures; in neutral, pastel, unis colours, with brushed, oxide, used effects. What if you want to mix a used metal with brushed wood? You can do it with iD Inspiration modular vinyl tiles collection. What if you want to create a customized flooring, which mixes terracotta coloured hexagons and milk coloured small triangles? You can realize it with Red Dot awarded iD Mixonomi collection.
Last but not least, modular vinyl flooring is easy to install and maintain. We have detailed our advice in each collection installation and maintenance documents, please consult them for more information.
What if we dared to think of a new definition of what a noble material is? What if a material would not only be noble by its essence, but also by its modularity and creative potential? With modular vinyl flooring, architects and designers can now include both aesthetical, qualitative and creative solutions in their projects.