Create an account and benefit from:
Easy sample ordering

Access to order history

Simplified contact with Tarkett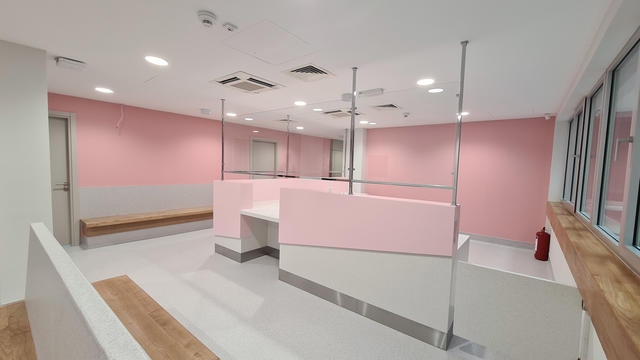 Liman Medical Centre
2021 | Novi Sad, Serbia
With its area of 9,294 square metres, the Liman Medical Centre in Novi Sad is the largest primary health care facility in Serbia. In 2005, one more storey was added and the complete restoration began in February 2020. The restoration project was created by the DBA Bureau from Novi Sad.
The recognizable appearance of the building was fully maintained during the restoration. Decorative lighting in different colours was installed onto the façade in order to create a traditional appeal to the public to engage in disease prevention.
Bright, greyish nuances were selected as the interior colours, and the departments use colour codes to help visitors find their way through the area in an easier way. 
The flooring selection involved Tarkett vinyl flooring from IQ Granite collection, ideal for health care institutions. The same type of vinyl was used for covering all the benches in the Medical Centre.
Designed primarily for medical and educational institutions, IQ Granite is extremely durable. Due to its classic design and an amazing pallet of as many as 62 colours, this flexible vinyl flooring fits easily into each school building or hospital. IQ Granite is very durable and resistant to wear, stains and damage, therefore it is suitable for heavy traffic areas. There is no need for waxing, just a simple dry polishing is enough for the flooring to regain its original appearance. Thanks to its wide range of types and accessories – including various options such as acoustic, antistatic and conductive flooring – IQ Granite is a multi-purpose flooring solution.
 
About
Tarkett vinyl flooring has been selected for the flooring restoration in the Liman Medical Centre in Novi Sad. 6,500 m2 of homogeneous vinyl from the IQ Granite collection have been installed.