Create an account and benefit from:
Easy sample ordering

Access to order history

Simplified contact with Tarkett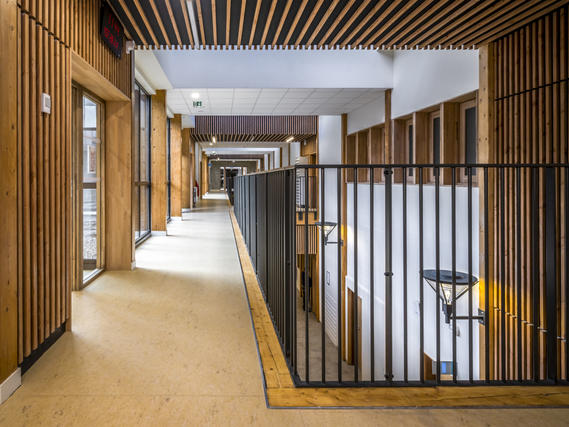 Simone Veil High School
2021 | Liffré, France
In Liffré, France the new Simone Veil high school was built using a comprehensive eco-friendly approach. In order to have as little impact as possible on the environment, the architects chose to use a combination of natural materials. They mixed and matched concrete, aluminum, glass and wood – a predominant material used on this project. Wood was used for the framework of the big reception hall, large laminated beams, in the eating areas and as a frame for the walls and floors of each level. The objective of the design, was to create a peaceful, airy and green space, ideal for the development of students and the pedagogical style of teaching.
Since, the hallways and classrooms are areas with high foot traffic, especially in a high school with more than 1,200 students, the architects chose Tarkett's Linoleum floor covering. It is a durable and easy to maintain material that contributes to a healthier indoor air environment.
The architects used colour as a reference guide, installing on each level a different colour of linoleum flooring: 
Ground floor: Green linoleum (Reference: Absinthe) to match with the outdoors
First floor: Yellow linoleum (Reference: Corn) as a reminder of the sun
Second floor: Blue/Purple linoleum (Reference: Hyacinth) as a reminder of the sky

High traffic areas/Hallways: Beige linoleum, to match the ever-present wood
Exceptionally, the eating area is covered with an acoustic vinyl flooring, since it is less sensitive to humidity: Acczent Excellence range, décor Carpet Intense Olive.
The architects have used Tarkett floor coverings in educational institutions, for the past thirty years and continue to regularly use Tarkett's linoleum flooring for their projects.
Photographer: Briag Courteaux
Making conscious choices. For people and planet.
Tarkett Human-Conscious DesignTM.
About
Read more about the new Simone Veil high school, designed with an environmentally friendly approach, and discover how Tarkett's Linoleum range was the perfect choice for this project.
Designer/ Architect
Chomette-Lupi & Associés-Architectes
Building owner
Région Bretagne