Create an account and benefit from:
Easy sample ordering

Access to order history

Simplified contact with Tarkett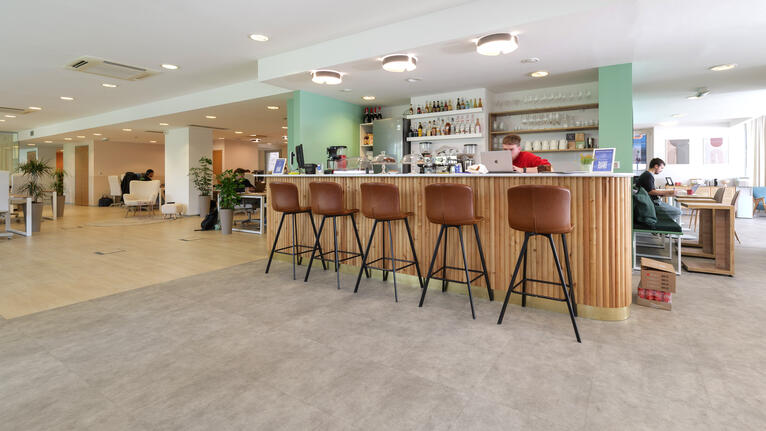 Haos Community Space
2022 | Beograd, Serbia
The first invite-only co-working space for start-ups, where everyone feels welcome, inspired and productive. The Haos Community Space is an entrepreneurial and creative community providing opportunities for growth, development and expansion within and outside of Serbia. Due to careful selection of its members, the Haos Community Space is a community which encourages interaction, innovation and new way of thinking in everything community members do. 
The space was designed using a lot of effort, therefore every detail in the space full of natural light makes the community members feel comfortable while working. The inspiring atmosphere, beautiful and pleasant work environment have been complemented by the installation of Tarkett flooring, DESSO carpet tiles from the Essence Structure collection, as well as LVT iD Inspiration Loose Lay and LVT iD Square flooring.
DESSO Essence Structure flooring, with an unlimited series of pale lines, provides a more organic form, while the washed-out look has been achieved by juxtaposition of light and dark tones. The combination of seven neutral colours, including beige and grey shades, produces a subtle but interesting effect, while five more vibrant options – blue, blue-green, dark orange, light orange and green – give a powerful character to the flooring.
LVT iD Inspiration Loose-Lay flooring can be installed up to three times faster than other types of flooring, without glue, thus making them a great choice for quick renovations. iD Inspiration offers a wide selection of designs and enables you to create stunning patterns, from rustic wooden flooring to specially treated oak and pine.
LVT iD Square is one of the largest pattern and colour ranges in the market. All 50 designs and 7 sizes can be combined both with one another and with Desso carpet tiles, thus creating elegant, creative projects, seamless transitions and at the same time introducing a surprising style to your flooring. LVT iD Square flooring reduces noise levels, which makes it an ideal solution for business and commercial areas.
About
A modern space for start-ups, in the heart of Belgrade, has been complemented by the installation of Tarkett flooring, a combination of DESSO carpet tiles and LVT flooring.
Designer/ Architect
Nevena Spirić
Tarkett partner
Opreming DOO